Real-time feedback and micro-learning to turn everyday observations into better performance
Give Feedback
Who's getting your feedback? Search to find them.
Get Feedback
Our unique concept of Feedback ID's allows you to invite feedback from anyone anytime just by sharing your ID.
Your feedback is delivered in private and builds up into your lifetime feedback history so you can access it for years to come.
For Personal Use
Give feedback to 100's of companies from our Search
Use our company directory to connect with hundreds of major organisations and many thousands of individuals and avoid the need to search high and low for customer service information
Avoid surveys. Make a big impact in your own words
Give feedback to any listed company or individual with our easy forms avoiding lengthy surveys that might be requesting information that's irrelevant to your situation.
Keep Track
Your free feedback account contains a history of all feedback you give or receive together with any replies and discussion. We send alerts when your feedback receives a comment.
No shared contact details means No Spam - Ever
We keep your contact details private so you won't be added to mailing lists by companies that you give feedback to.
Get feedback on yourself
If you want feedback on your own performance (artists, sole traders, consultants, students, etc) flick the switch in your profile and we'll add you to the directory.
Get my FREE Feedback ID
For Business Use
Replace annual reviews with continuous 360 feedback
Enable your customers, employees and managers to exchange and act on feedback in a single platform that connects your people with each other and (ideally) with your customers for maximum impact and quick reflexes.
Instant Feedback allows Instant Action
Give you staff feedback in real time for immediate effect. Combine any time feedback with regularly scheduled feedback to maintain momentum with developmental actions.
Allow privacy whilst maintaining accountability
Provide 2-way social interactions and maintain privacy of what's being said allowing both affirming and corrective feedback to be captured and managed.
Get feedback that's meaningful to you
Use your configurable templates to capture structured feedback and to guide managers in best practices for coaching conversations, alternatively let the feedback flow naturally with free text, or mix and match to see what works best.
Reporting the way you want it
Use the reporting capabilities to pull out feedback data the way you want it, from simple activity metrics to sophisticated sentiment analysis.
Request a free business trial
In the office, on the couch or at the shops?
It doesn't matter. Pay Compliment works beautifully on any internet device so that you can give or retrieve feedback whenever and wherever the need arises.
Show me a feedback profile
on my device right now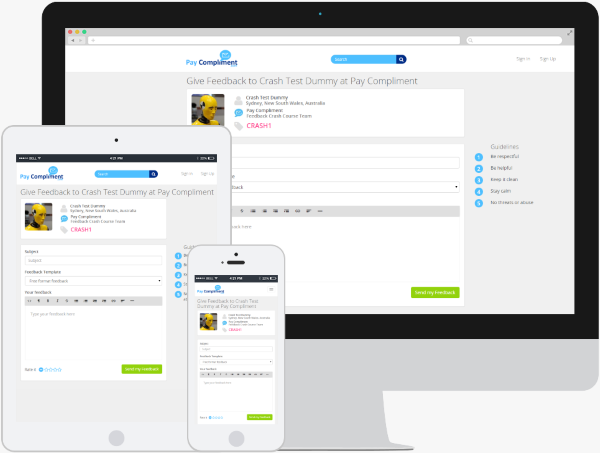 Giving feedback couldn't be simpler!
Search for the person or company you have feedback for, then follow this three step process.

Write It
Use the free text feedback or one of the convenient templates to help you write your feedback.
Own It
Sign in to your profile, or if you're a first timer register for free with your email or a Social Media account.
Send It
Hit "Give Feedback" and your feedback is delivered to the recipient immediately.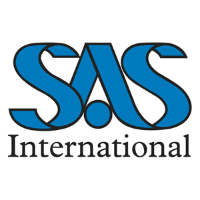 "Pay Compliment has been a big help for us to get on top of our performance management processes. The very user friendly screens and many template options have made the process incredibly quick and easy. Now our appraisals are just a few clicks away!"

Helle Lauridsen, HR Executive - SAS International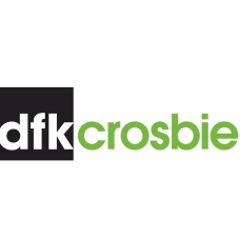 "I have completed my feedback for my team now and it really resonated with me how even across a month you do not remember all the information you want to comment on. The process was so easy and it made me personally feel great about my team and hopefully assisting them!"

Maureen Jack, General Manager - DFK Crosbie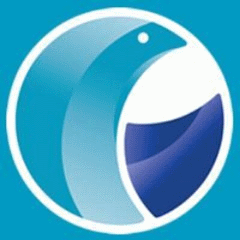 "Gosh by the end of this season's events we will have lots of really useful feedback. I think it is brilliant by the way!"

Lis Wilson, Director - Shorebird Recruitment Process Outsourcing
"By the end of my presentation I had 3 pay compliment feedbacks and I just notice another couple have come in today so very successful! I must say it is quite fun getting 'instant gratification' so to speak through feedback as you really don't get much idea from talking to a room of strangers!"

Alannah Norman, General Manager - Wendy's Home Care
Free
Personal
Real time Feedback
Self requested Feedback
360 degree Feedback
1 search listing
Email alerts
Coming in 2023
GIG Economy / Freelancer
Real time Feedback
Self requested Feedback
360 degree Feedback
Built in template library
Video Feedback
1 search listing
Email alerts
SMS alerts
Personal brand management
Testimonial gathering
Performance history transcript
per user per month
plus $40 per business per month
Business
Real time Feedback
Self requested Feedback
360 degree Feedback
Scheduled manager Feedback
Team recognition
Named or anonymous Feedback
Customer Feedback
Multi-step Feedback routing
Feedback moderation (optional)
Built in template library
Video Feedback
Custom forms
Unlimited search listings
Email alerts
SMS alerts
Fast setup & administration
Prices are in US dollars excluding taxes.
Contact us
Fill in the form below to contact us:
Get your Demo
Want to see the Design Thinking that makes Pay Compliment such a powerful performance management system?
Let us know and we'll schedule a demonstration.
People build trust through relationships. As more things become self-service the more distance there is between customers and employees. Suppliers are racing to implement more and more sophisticated systems to win your loyalty such as personalisation, loyalty programs, incentives, autoresponders, social listening tools, re-engagement campaigns and other automation that increases this distance yet further. Our mission is to buck this trend. We believe that loyalty results from productive personal relationships and that human to human engagement is the answer so we are providing, yes, a computer platform, but one that serves to connect people with people at a personal level to deliver better service beyond a single matter, enquiry, transaction or ticket.
When customers and employees only come together to deal with issues, exceptions and to answer complex questions it can be stressful for both parties and an absence of gratitude often leads to the belief that work is meaningless. This trend has been fuelling an employee engagement problem that cost the US economy $500bn in 2014 and is difficult to reverse.
Pay Compliment is a platform for customers, employees and managers to give direct feedback to the people and organisations they interact with so that customer service standards and employee performance are maintained at the highest possible levels. Besides all that you'll feel better when you pause to think, then share what someone else did that you are grateful for.